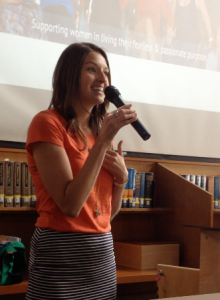 Hi dear one,
Remember High School? What was that time like for you? Was it filled with anxiety? Excitement? Romance? Pressure? Did you get to celebrate your gifts as a growing woman? Did you feel safe to examine what it means to be a woman in the world?
For me, High School was both the best of times and the worst of times… On day one I signed a sacred contract with my soul to be popular and liked. That desire trumped my need to love myself first.
This past weekend I had the honor to return to my High School and speak at their first ever Women's Symposium around what it means to be a woman leader in the 21st Century. (This is nothing short of a miracle considering my "goals" in High School.)
Being a teenager can be exhausting, scary, and confusing- or it can be rewarding, transformational, and exciting. I chose to do a talk around the power of the teenage girl through the archetype of the Maiden, a symbol I turn to every time I feel scared or embarrassed.
Check out my Vlog: The Maiden.
Every woman has a story. What was it like for you to be a maiden? As the empowered woman leader that you are, how can you support your maiden now?
I'd love to hear from you, so let me know in the comments below!
Love,
Chrissy
P.S. I'm officially a motivational speaker now! This talk was my first ever public speaking gig, and even though it was scary as hell, I've never felt more aligned with my purpose. How can you step outside your comfort zone this week to bring your unique gifts to the world?