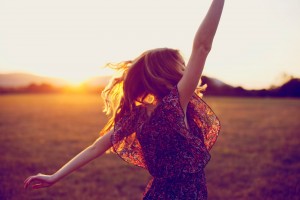 Hey ladies,
I've received a number of questions lately about what I do to create and sustain success and happiness. My answer is mindset. I don't wish for success and happiness, I expect it, then get after it like my life depends on it (because it does).
Here are 6 Ways for YOU to Expect Success:
1. Create a consistent morning routine that feels good. 
Your mornings can make or break your day. I hear these excuses all the time, "I don't have time to meditate… I don't have time to make a good breakfast… " But do you have time to feel crappy? It's taken me YEARS to commit to this and even though it's a struggle I have noticed this truth: when my morning routine is rockin', my LIFE is rockin' too. All routines are different and it's up to you to make one that works. My routine involves hot lemon water, meditation, yoga, journaling, and intention setting followed by an energizing breakfast. Please note, waking up and jumping straight to the phone to check email or Facebook is NOT on this list. That's an invitation for stress, fear, and comparison.
2. Follow your joy. 
What brings you joy, lights you up and makes you smile? What activities make you lose track of time? What do you truly desire? When you follow your unique desires, you become more of you.  And sister, we need you. Desires and joy are a woman's fuel. Schedule your happiness boosts into your calendar and be unapologetic about it. Genuine happiness keeps the fears and addictions at bay.
3. Show up no matter what. 
My definition of "showing up" is taking action that aligns with my highest good. If you're ever feeling stressed or afraid, you might notice yourself staying hidden and small. In those moments, you have a choice to show up for your highest good. Does showing up mean giving yourself the space to be alone and rest? Does it mean getting your ass to a workout so your body can move? Is it calling a friend or writing in your journal? When you show up (no matter what) there's massive transformation available on the other side. Showing up in the face of fear shows you what you're made of.  Showing up in the face of resistance allows you to grow.
4. Be true to your purpose. 
Last week I showed up to yoga (even though my mind told me I was too tired) and left the class transformed and inspired. The teacher read this quote from the Bhagavad-Gita: "It is better to strive in one's own dharma than to succeed in the dharma of another. Nothing is ever lost in following one's own dharma, but competition in another's dharma breeds fear and insecurity." As a Western yogini, I replace dharma with purpose, and boom, there's my mission in life.
Follow your desires, passion, and purpose- and success and happiness will be yours. The minute you start faking it by following someone else's dream, truth or rules you lose yourself. Pleasing others + playing safe inside a game that isn't yours in the first place is the formula for self-betrayal and loss. Create your game, make your own rules, and find the teammates to stoke your fire.
5. Be a magnet for what you want.  
"What you think, you become. What you feel, you attract. What you imagine, you create." The universe is listening and your energy has phenomenal power. You can use your thoughts, feelings, or imagination for greatness or defeat. Something so beautiful happens when a woman decides that she is a "success" long before she receives any award, compensation, or acknowledgement. When you put your focus, time, energy and emotion into a desire, the manifestation process begins. Your belief is where the magic happens.
6. Get support. 
This is the most important step. I am unapologetic about receiving and investing in support. I have a women's circle for sisterhood. I have a spiritual coach for my healing process. I have a success coach for my business mastery. I even have a romance coach for my relationship's intimacy and pleasure. I see support as a blessing, not a weakness. Thinking that you have to (miserably) do everything on your own is an old and archaic story.
Are you ready to receive the support you deserve and long for? Do you know you want to make a difference but don't know where to start? Are you ready for a new beginning but don't know how to make the transition? Do you have a creative project that needs accountability? Do you want to make money doing what you love?
Do you want to be the happy and fulfilled?
Let's have a free discovery session and create a game plan for you to make 2015 the best year of your life. My team will get back to you to set up our phone or Skype appointment and I can't wait to meet you!
To your success and happiness,
Chrissy