Dear friend,
Last week I learned this lesson: I'm more likely to hurt myself & others when I'm not fully present.
I made a quick video about my experience. Click the image below to watch.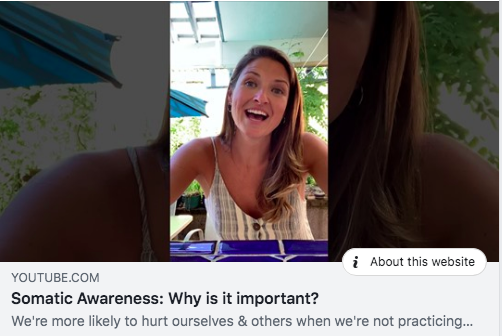 I sprained my ankle last week because I wasn't connected to my body. If had been practicing somatic awareness, I would have sensed my body calling out for rest and I would have gone for a walk instead of a sprint. Instead I pushed, and pushed some more, and I hurt myself.
Then this past week, when I took a break from exercise and all of my somatic practices in order to nurse my injury, my presence went away and I became reactive and defensive.
Once I brought my body back to presence with the help of movement and mindfulness, I became a more loving and pleasant person.
My virtual workshop Root & Release is this Saturday May 30th from 4pm-6pm PST. You'll tap into your somatic awareness and open up your spaciousness, patience, compassion and joy.
Snag your spot here >>> https://chrissybradysmith.com/root-and-release/
If you have any questions, please respond to this email. I can't wait to connect with you.
All my love,
Chrissy