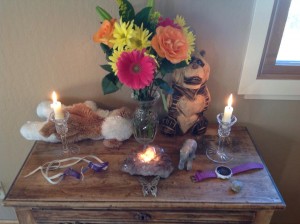 Hi Beautiful,
Yesterday I led one of  my favorite workshops, New Beginnings. To the right you'll see the picture of our altar in which everyone brought a special object to share as a way to create sacred space. What a special day it was!
I created and led this workshop for the first time in January of 2013. I was a teacher at the time and was struggling in that career because I knew in my heart that I wasn't following my true calling. My gifts were stifled inside a classroom regulated by rules and standards which worked to bankrupt the minds and hearts of my beautiful students.
I knew I was meant for something different, with more meaning and personal passion but I didn't know how to get there. I was blinded by fear and self-doubt.
On January 26th of 2013, I decided to trust my gut and brought three things I loved most inside a tiny living room in San Francisco: human beings, truth, and feelings. My co-facilitator and I created a New Beginnings workshop for 10 of my closest friends to let go of the past and step into 2015 with hope, love and commitment.
Even though I was terrified to put myself out there, I followed my passion through every fear, tear, and sleepless night and landed inside my purpose.
Leading that workshop was the most important day of my career because it created me as the coach and facilitator that I am today. The ten participants who arrived as separate individuals left the workshop as one. Their hearts went through precious healing and their self-doubt transformed into unyielding confidence.  They got their "new beginning" and I got mine too.
I've now led over 25 workshops and retreats and I own a life coaching business that lights me up. I don't question for one minute what I'm up to in the world because I'm living my truth with heart, passion and presence. The bonus? I get paid for being myself.
Give yourself permission to follow your desires. You can't go wrong.
With your passion as your torch, shine your way out of the darkness into who you're meant to be.
Blessings to you on your fearless and passionate journey,
Chrissy
P.S. Ready for your New Beginning?
Let's have a free discovery call to map out your reinvention process so you can feel happy, alive and fulfilled. I work with women like you who who want to be leaders but struggle with fear and self-doubt. I help you find your confidence and purpose through one-on-one "Reinvention" coaching in self-love, mindfulness, and lifestyle design so you feel empowered to live out your calling.