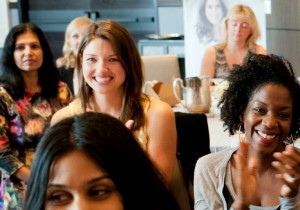 Lesson #1 From Miami
Last Wednesday morning, I woke up spinning in fear. 14 months ago I made the biggest financial investment in myself as a transformational coach by registering for a 12 month long coaching and business certification program for women entrepreneurs, and this weekend was our graduation in Miami! This weekend marked our final conference to celebrate with 150 transformational coaches from all over the world. You'd think I'd be more excited to complete this journey, but the truth is, I was FREAKED OUT!
I was terrified. It didn't help that the biggest storm in 8 years hit San Francisco the night I was supposed to fly, and my thoughts descended into excuses of: "I can't go… it's not safe to fly…the flight will cancel anyways so I should stay home…" You get the picture. Thanks to my training in mindfulness and transformation, I got back to reality and realized the core message of my fear.
"You're not good enough." Simple as that.
Ok. Got it fear. I hear you loud and clear. But the truth is, those maddening thoughts aren't real. They come from my ego, a thought structure designed to keep us safe. I was expanding and growing out of my limiting fear system, and in turn my ego went bonkers.
If you've read my Fear to Fire workbook, you know that fear is rarely a response to what is happening in the moment. It feeds off memories from the past or worries about the future. It has a paralyzing, frozen quality. That's where I was last Wednesday. I was frozen in fear responding to an old story of not being good enough.
This story started when I was six years old. I struggled in school and told myself over and over again that I wasn't good enough, smart enough, or strong enough to succeed. I spent most of my childhood worried that I wouldn't receive love from my teachers and peers due to my learning disabilities. Those fears were deeply triggered before I left for Miami, as I was afraid of feeling unworthy next to 150 successful life coaches with 6 figure businesses. My 6 year old comparisons fueled my ego into (almost) staying safe in San Francisco.
We have an opportunity in every moment to transform our fear into love. Fear can't operate when love is present. I loved my inner 6 year old who was afraid to show up, and loved my present 28 year old self who had a big dream. I decided to trust my true self, the empowered part of me that bought the plane ticket to Miami and invested in a program that changed my life. I followed my fear straight to Miami, got on my flight despite the storm, and trusted that this fear was too powerful to ignore. Getting to Miami was a powerful act of self-love. Love trumps fear every. single. time.
I let my fear lead me out of the darkness and into the light.
When we dig into our fear, we unleash our courage. I got to Miami safe and sound, and made the commitment to be brave. I went to the microphone multiple times to share about my accomplishments. I didn't give into old stories of not being good enough in comparison to my peers. I shared my success with love and confidence, and celebrated the accomplishments of others with my whole heart! There's no shortage of achievement in this world, and when we celebrate the greatness of others, our own power expands in return.
The moral of this story: your purpose should the scare the shit out of you.
Follow your fear like it's your job. If you want to live with purpose and empowerment, make sure that your actions push you out of your comfort zone.- that's where the magic happens. Playing safe keeps you stagnant, and I know you want to come alive with extraordinary direction and passion. Let your fear ignite you out of the ordinary and into the legendary life you long for.
All my love,
Chrissy