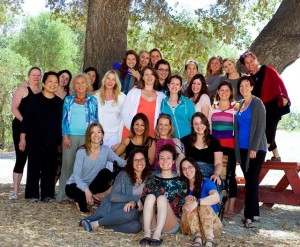 Over the weekend I led my favorite retreat, Celebration of Woman.
Every workshop is just that, a celebration. A celebration of every size, shape, race, sound, and age of the feminine. The full range of "woman" is accepted and realized in this space.
I want to say thank you for the sisterhood, the tears, the beauty, the fight, the trust, the laugher, the empowerment, the stillness, the dance, the light, and the love. I'm forever grateful.
I acknowledge every woman who showed up in the face of fear and uncertainty! You inspire me to be the best woman I can be. Thank you. Thank you. Thank you.
As I write this…I realize that I'm alone in my house because my partner is at his men's group tonight. And you know what? As I thank every woman for showing up for her soul's reckoning this past weekend- I can't help but thank the other side of the human species. I want to say THANK YOU to every conscious man who shows up with love, presence, humility, and strength. Thank you for doing your own inner work…
As these women come home out of the cauldron of transformation, I hope and pray that they are received and seen with presence, deep listening, and trust. Thank you in advance for seeing us, accepting us, and supporting us on this crazy ass journey. We're all in this together.
May all beings be happy and free,
Chrissy