Hey gorgeous,
I've missed you!! Here's an update on where I've been the past three weeks: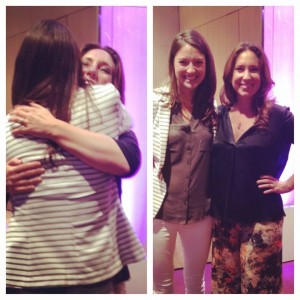 I traveled to Paris on my own and attended a conference with my business coach and received the most important coaching of my career… (more news to follow on that front!)
I celebrated my birthday.
I made BIG changes in my business.
Here are some lessons from my solo trip to Paris:
1. Human beings are meant to be of service! I learned this because I embarrassingly packed WAY too much for this trip and needed tons of help carrying my suitcase up and down the stairs of the metro. Complete strangers helped me without me even asking. Giving and receiving defines the flow of life. I was open to receiving their support, exchanged many smiles and "Merci's" and the world became a little bit brighter.
2. When you surround yourself with powerful people, you become more powerful in the process. Jim Rohn says, "You are the average of the 5 people you spend the most time with."  I went to this business conference because I wanted to get in the room with hundreds of high caliber of women who are doing amazing things in their businesses. Just being there brought my vibration up a notch, but actually getting on the microphone and asking for support caused me to uplevel and transform my limited thinking into more powerful belief systems about my worth as a business owner.
3. Self-Care cures just about everything. I was so jet-lagged my second day in Paris, that I decided to spend half the day at a Spa. Not only was my jet-lag totally cured after this experience, but all my fears of being in a foreign country were released because my nervous system was eased and nourished. I left the spa confident, excited, massaged, soaked, and scrubbed.
4. Women operate in seasons. Sometimes we're in a winter storm full of action and movement. Sometimes we're in the valley, simmering and resting. Sometimes we're pregnant with ideas, and then in the Spring we get to birth these concepts into reality. I've personally been in a valley this past month.. journaling, simmering, and brainstorming about the next level of my business and life. Every season requires action and support! I went to Paris (inside my valley season) and got the coaching I needed even though I was so scared to bring my truth to the mic. The support I received got me out of the valley and back into my purpose.
5. Have a ritual on your birthday. Being born is such a big deal… your egg was chosen to be fertilized, your mother labored and delivered you, and a new life was brought to the earth. You were born to be YOU, not anyone else.  I was on my own for my birthday this year, and I could have easily forgotten about it and pretended like it didn't happen. Instead I made sure to take out my journal to celebrate all of my accomplishments from this past year, and examined patterns and habits that no longer served me. I surrendered those patterns to Spirt, asked for some miracles, and began journaling about everything I wanted to manifest this next year. With intention, love, and celebration, I turned 29 on my own in the city of lights. My attitude could have let this birthday suck (trust me.. I was close!!) but I returned to my true self and thanked Her for showing up regardless of the circumstance.
So let me ask you…
What habits and patterns no longer serve you?
What season are you in and where do you want to be?
How can you take better care of yourself?
Who are you spending your time with and are these relationships serving you?
Where do you want to be of better service? Are you receiving the service from others with grace?
Let me know in the comments below.
To your and your greatness,
Chrissy