If you're new to my work, HELLO! I'm so happy you're here. Let me introduce myself…
I'm Chrissy Brady-Smith, feminine emancipator and women's empowerment coach. I do the work of the heart.
I believe a woman's vulnerability is her greatest gift.
Some call me a heart worker because I help women find, face, feel, and free all the fearful layers that cover the heart which deflect intimacy and vulnerability. When these strategies and defenses soften and heal, women make better choices which impact their relationships, family, businesses, and world for the better. When a woman's love is liberated, the planet heals.
Last week, I took this mission up a few hundred vulnerable notches.
Following my blog post last Friday, I got the pull from Grace to dive deeper into my teenager's story. I decided to tell the whole truth about her sexual wounding from high school, a truth you can find on my Facebook Biz. This link will take you to the newsletter, plus new vulnerable stories.
Let's begin with the MINUTE before posting my story. I get this text from an unknown number:
"Just feel called to reach out and say thank you. Thank you for all you do. You are a fucking rockstar, badass, warrior, goddess woman. Thank you."
"Um. WHAT?" I say to myself, "Who are you and how did you know I REALLY need to hear that?"
I took that text as a sign to finally hit "post," and THANK GOD I did.  I shared a picture of my 17 year old self and two very raw and naked stories from my teen years that had been hiding in the darkness of my psyche for 15 years. What followed was a tidal wave of support from fans, friends, family, moms of ex boyfriends, and complete strangers.
Turns out every inner teenager has a story, and my story telling gave permission for others to honor their past as well.
But want to know a secret? I freaked out before, during, and after posting those stories. Like… FREAKED. I have never felt more resistance in my life! Every excuse showed up in my mind to try and steer me off course.
I knew that without the proper support, I could very easily take the post down with the simple click of "delete," (something I've done in the past).
So, what did I do?
I wrote a mass text to 15 of my greatest champions and biggest supporters with a clear request.
Here's the first text: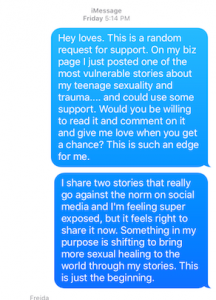 Here's the next text to a group of new friends the following day (when I was thinking about taking the post down).
"I'm reaching out with a vulnerable request. Yesterday I posted the most risky and vulnerable post on my Facebook Biz page naming the sexual traumas I experienced in high school, and the ways in which I'm taking back my healthy sense of aliveness in my body now. I've been in a huge healing process this month around my sexuality and it's time now to share it about publicly. Would you be willing to read it and show your support with either a comment or even just a "heart" when you have a chance? Thank you. I'm eternally grateful. Please know, if there's any way I can support you with these vulnerable leaps, let me know, and I'll be there."
That's asking for what you want. I let these friends into my world and gave them the gift to support me.
In the past I would have seen these requests as a signs of weakness or burden.
My younger self thought she had to battle with life on her own, but the Goddess knows how to dance with life and attract what she desires with action. This clear request set everyone up for success: Myself, my community, and the fans on my Facebook page. They got to experience what support looks, feels, and sounds like thanks to these glorious champions of mine- even on a story that brings up so much shame and embarrassment.
Not to mention, my boyfriend Steve's comment was the biggest "mic drop" I've ever seen. You've gotta see it.
The healing balm for shame and embarrassment is LIGHT. Shine light on it, baby. Shine light on it now. Give those shadows a voice and bring them out of the darkness so they can be purified and healed by light. Take baby steps. Share with one person who makes you feel safe. Let yourself be seen and heard.
This was such a reparative experience for my teen self.
Thanks to this post and request, my whole purpose as a women's empowerment coach has begun to shift, and I have no doubt my voice will be going back to high school campuses to transform the realm of sex education. There's too much wounding in this area that we can't afford to ignore any longer.
So thank you, dear for reading my story, yet again.
If you couldn't already tell, vulnerability is the cornerstone of my business, and this is JUST the beginning.
If you need support in vulnerably asking for what YOU want without any shame or excuse getting in the way, let me know in the comments. I can't wait to hear from you.
Love,
Chrissy
P.S. I'm still offering 3 Hour intensives (done by Skype) to anyone desiring deeper healing for their teenage selves. This offer will be available until my BIRTHDAY next week May 18th. Our time together will free you up in your voice, body, heart, and mind. Write me an email at chrissy@new.chrissybradysmith.com to set up your introductory call with me to see if this coaching is right for you, with the subject line: Teen Intensive. I'm SO excited to get to know you.