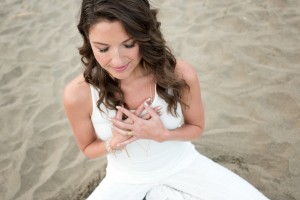 Hey Gorgeous,
I invite you to go back in time, to the second you woke up this morning. How did it go?
Did you:
Wake up in a frenzy?
Immediately go on Facebook or Instagram?
Worry about getting everything done?
Feel the incessant need to prove yourself in some way?
Beat yourself for something you did wrong the day before?
Dread the day ahead and wish you could go back to sleep?
If you woke up with total peace this morning, BRAVO! I'd love to hear about your morning routine.
If you woke up in a frenzy of worry, pull up a seat, sister, we have to talk. 
It's so easy for success-driven women to forget about their our own inner peace.

Peace for me is the inner knowing that I'm enough exactly as I am. But life hasn't always been that easy peasy and woo-woo.  
Here's how my life used to be…
My need to be loved and accepted by others overshadowed my basic primal need to love myself. I was a workaholic; I stayed insanely busy in order to hide from my pain.
I used prescription medication, romance, and food to heal a very spiritual problem; I felt unworthy. I felt less than. I searched outside myself for answers, love, and acceptance.
My worries were rooted in the fear-based messaging of my ego telling me that I wasn't enough. No matter how hard I worked, and how many accomplishments I fulfilled, I still fell asleep at night feeling worthless! 
And then I woke up. I made the decision that life didn't have to be this painful. I started listening to the voice of my true self. I invested in support.
I attended some seminars and workshops which blew my mind and heart open, and I made the decision to hire my first transformational coach. I didn't want to go around in circles like I did in therapy, I wanted real change. I wanted to breakthrough my limitations FAST. 
In only one hour with my first coach, I healed the root cause of my unworthiness, and let that belief go. I created a new and empowering belief system full of worthiness, empowerment, and self-love. As a result of that one hour, a whole new world opened up for me. 
I ended my teaching career and now own my own business, not to prove my worth, but because it's my purpose and service to the planet. I'm in a healthy and empowering relationship with a partner who meets me as I am and inspires me to be the best version of myself. I workout because my body loves it, not because I need to look perfect. My perfection lies in the love I have for my body as it is NOW.
When you're enough exactly as you are, there's nothing to prove. All you have to do is be- and that's where the peace sets in.  
Now back to you, love…
What if you woke up every morning with energy, delight, stillness and excitement all at once? No longer needing to prove your worth or talent- simply having the confidence to show up exactly as you are? 
With a shift in perception, you can be enough too.
If you're ready to give real transformation a shot, I invite you to get on the phone with me. 
On a discovery call with me, we will give your true self a voice. Not the voice of "should," or "I don't know," or "I'm not worth it," instead we will focus on your desires. Desires are a woman's fuel! They make you, you. It's my belief that you and only you have the answers. I'll hold the space for you to discover your next steps for living with total empowerment as a wild woman entrepreneur.
You'll receive clarity and inner peace so you can start a love affair with yourself and be enough- exactly as you are- NOW.
If you want to take me up on this FREE offer, click the link below:
>>> https://chrissybradysmith.com/discovery-session/
can't wait to hear from you,
Chrissy
P.S. What if your fears actually made you more brave? That's what's available for you after 45 minutes with me.