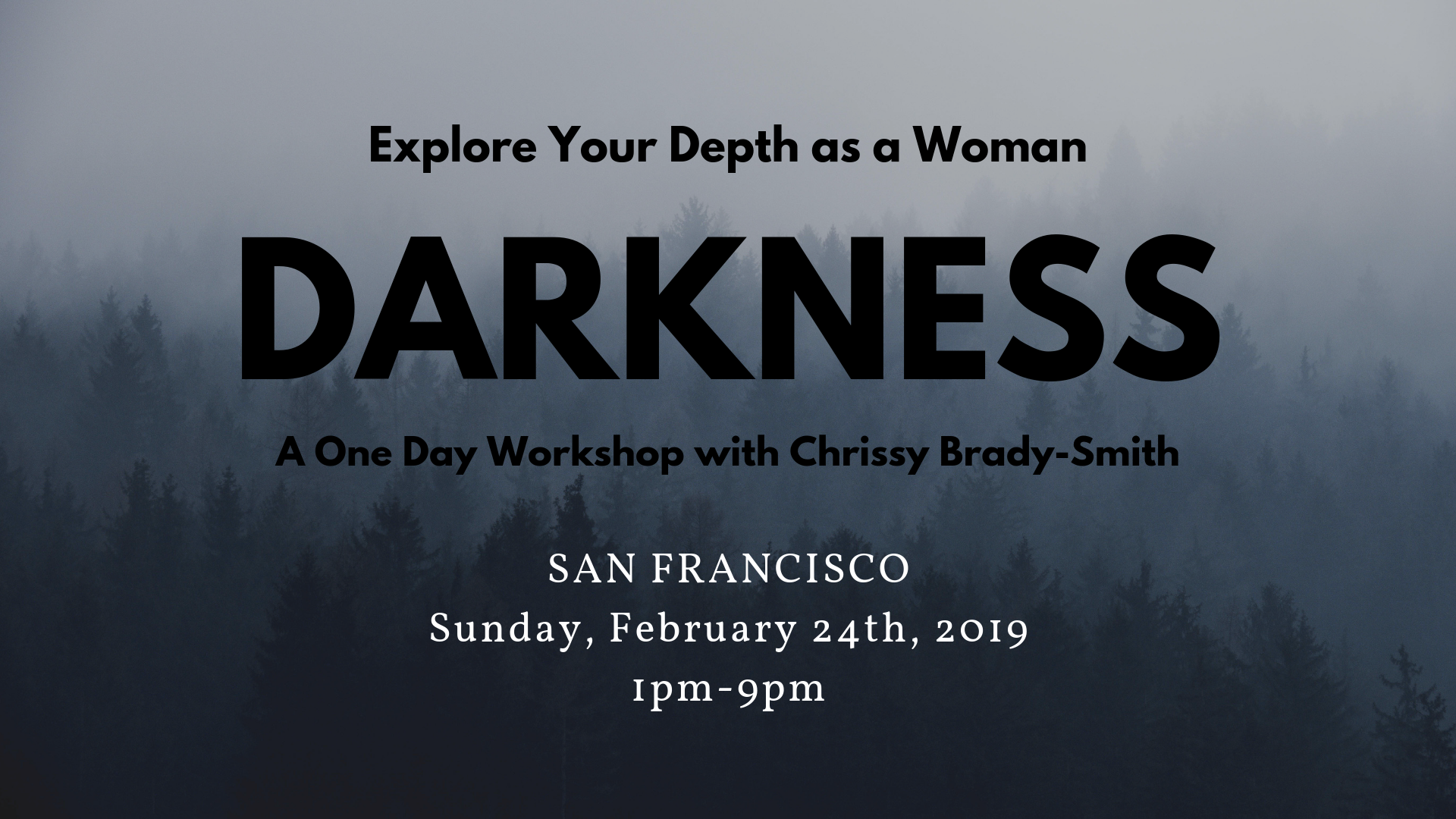 I know what it's like to be confronted by darkness. To feel swallowed by pain and lost in despair.
Even with all of my emotional and spiritual tools, this past year my depression came back with a force that knocked the "me out of me," month after month. I resisted the pain. I hated my state. Over and over I needed to rise above the darkness in order to be a functioning human. I facilitated retreats and workshops, officiated a wedding, coached my clients, and attended social gatherings...
But when no one was around, I would collapse into hopelessness and wonder how I could possibly keep going. I was so close to giving up.
2 months into my resistance to the pain, I was invited in therapy to finally sink into the depths of my darkness, instead of rising above it.
I got to swim in it. Feel it. Be rocked by it. I thought I would drown in it, but the waters of my darkness were enchanting, powerful, and energizing.
It was there that I found my mission to befriend the dark. Since that session, my darkness has taught me how to live, lead, and love with more compassion and understanding for the human condition. I didn't realize how much my leadership was missing her depth.
Turns out my darkness matters, and yours does, too.
I've created this workshop to liberate women from any secret pain or darkness they've been hiding from the world.
How do I define darkness? It's the "stuff" you keep in the dark. The uncomfortable emotions, thoughts, worries, or parts of your personality that you really don't want others to see. Your darkness could be anxiety, depression, grief, jealousy, righteousness, shame, unworthiness, despair, hatred, anger...  just to name a few. 
At this Darkness workshop, you'll transform your secrets into brilliance, your shame into worth, your shadows into light, and your pain into love. 
You might feel afraid of your darkness. I get it. I'll help you meet and expose those parts in tender, gentle, and very safe ways so you're no longer swallowed by the darkness, but empowered by it. The best part? I know how to make the darkness inviting, and dare I say, FUN.  We'll be in a community of sisters, experiencing the darkness in solidarity and community. 
Join me Sunday, February 24th of 2019 from 1pm-9pm.
Where: 43 Topaz Way, San Francisco
Cost: $350
Early Bird Pricing until February 8th: $250
Cost includes Dinner and 1 private 30 minute integration coaching call with Chrissy.
To honor the darkness we will all wear black, and in the evening we will watch the sun set into night in meditation and reverence.
This is an experiential and embodied workshop. Expect honest sharing, movement, emotional expression, breathwork, and ritual.
Email me at chrissy@chrissybradysmith.com if you have any questions. I'm happy to set up a call with you to see if this workshop is right for you at this time. 
Space is very limited. 
Register now for $350.